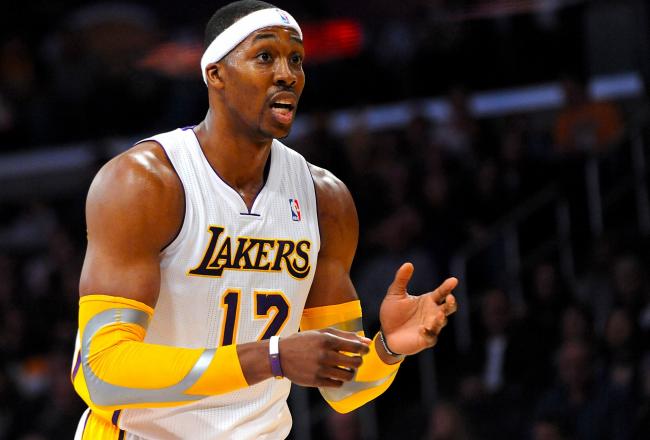 A season that had so much promise has become a nightmare over in Los Angeles. Kobe Bryant and his Los Angeles Lakers continue struggling to grasp how this team of elites has managed to lose so many games. 
Moving forward, the entire Lakers organization should begin to wonder about Dwight Howard's 2013 free agency, the impact it could have on the team and the possibility that Howard decides to leave Los Angeles. 
Through 35 games, at 15-20, the Lakers are the No. 11 seed in the NBA's Western Conference and a surprising four-and-a-half games behind the eighth-seededPortland Trail Blazers. With their star-studded lineup, many expected Los Angeles to be a dominant team that could approach 70 regular season wins.
Now, before mid-January, we can rest assured that the Lake Show won't even crack 60 wins.
It's difficult to imagine Mike D'Antoni's team not making the playoffs, but with Howard's torn labrum and Pau Gasol's concussion, the team could very well continue its losing ways in the coming weeks. 
Who knows if this team, despite its talent level, will get it together? If it doesn't, who knows whether that will even have an impact on Howard's future in Los Angeles?
He is, after all, going to become an unrestricted free agent on July 1, 2013.
The Lakers are all but certain to offer Howard the maximum allowable five-year deal worth about $118 million. The most any other team could offer him is a four-year deal worth roughly $88 million.
 Under any circumstance, it would be difficult for an NBA player to walk away from an additional $30 million in guaranteed money, especially one who has yet to fully regain his dominant form following serious lower back surgery.
Historically, the Lakers have always been able to get their man, and Howard is just the latest example.
With their rich history, 16 NBA championships and the beautiful city of Los Angeles to call home, the Lakers have always been one of the more attractive teams in the league. 
The idea of a franchise player leaving is difficult to imagine, particularly when doing so could cost him tens of millions of dollars.
Some of the sting of giving up the additional guaranteed money is taken away when you consider that it may actually be to Howard's benefit to become a free agent in three years. In the summer of 2016, Howard will be 30 years old and could, in theory, sign one more max contract to bring him through the end of his career.
Yes, bolting the Lakers via free agency would be an expensive risk for Howard. But taking everything into account, it may be one he's willing to take.